A Bit About Me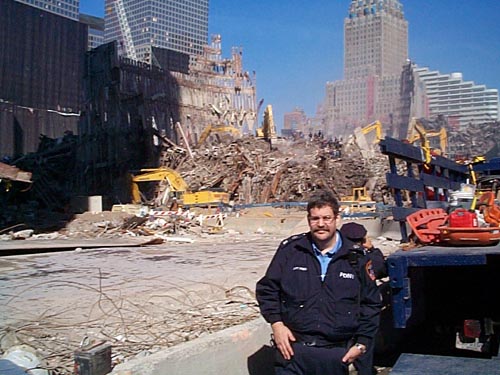 Taken at the corner of Greenwich and Liberty Streets
Now, like I said I was a Captain with FDNY/EMSC. I joined NYC*EMS as it was known back then on July 5, 1983.  I was already an EMT (Emergency Medical Technician) for the past five years working at different private ambulance services. I was married in October of 1982, and now I thought it was time to get a better paying job and more important: benefits.
Back then, EMS was part of the NYC Health & Hospital Corp., a quasi-city service that operates all of New York City hospitals. EMS was not treated so well back then, getting things done to improve the service was harder than could be imagined. Some would say the same thing about how we are now treated by FDNY brass now that EMS is part of the FDNY. 
In January of 1989, I was promoted to the rank of Lieutenant. It was the first class of officers made in quite a while. I was stationed back in Brooklyn and enjoyed my job.
Starting a Family
It was shortly after becoming a supervisor that we found out my wife Fern was going to have a baby. On November 19, 1989, our daughter, Lianna Brooke was born.
Things stayed mostly normal until May of 1993, when Fern told me that she was pregnant again. It was also in November of that year I was again promoted to the rank of Captain.
This time I was assigned to work midnight as a Duty Officer in the borough of the Bronx.  My job was being a crisis manger; if something hit the fan, I had to deal with it.
Now as a new Captain I was told that I had to work the holidays, however on New Year's Eve I was able to get off. Our second child, Dylan Robert joined our family.  My boss told me that this was the best excuse he ever heard for getting out of working a holiday.  My accountant also was happy for me.  I have beaten the IRS for a tax break for the whole year.
Making Friends
During my years with EMS I formed some great friendships. One of them was with a person who talked me into moving to the town where he lived, his name was Kevin Sutch. After Dylan was born we knew that we needed a bigger house. We sold our place in Brooklyn, and moved out to Levittown, New York, which is located in central Nassau County.  I had told Kevin that since he had talked me into moving into Levittown, he could help with the move. "No problem, I called some of my brothers," was his answer. Two months before we moved into our new home, Kevin passed away. It was sudden, and I lost a friend.  It was also Kevin, who had talked me into taking the Captain's exam.
Another person is a gentleman who we called "Mother" from the movie, "Mother, Juggs & Speed." Mark was the senior medic at Station #31 and is without a doubt one of the best field medics there is. 
While working overtime one night with Mark, we had brought a patient to Kings County Hospital. While there, a person fell down an elevator shaft.  Mark and I and two others climbed down into the shaft to treat her. While there, the elevator started to come down toward us. Lucky for us, it stopped short of reaching us. For our action we were awarded NYC*EMS highest medical award: The EMS Medal of Honor. We all agreed after we got out, if we had stopped for just a minute and thought of what could have happened to us, we never would have done what we did.
Unexpected Changes
In the fall of 2002 while helping out one of my crews with a rather large patient, I injured my left shoulder.  After undergoing surgery, injections and a ton of therapy, we found that I had lost half the range of movement in my left arm. I could no longer do the job that I had started way back in the late 1970s.  I left the job on October 21, 2003.
After taking some time off (and a couple of dive trips later), I started teaching EMT's for a company based in Brooklyn.  While there one of the other instructors who is a nurse and knew that I was a diver asked me if I would like a job working in Hyperbaric Medicine.  Little could I have known that this would be the start of a chapter in my life.
It was in December 2005 I met Glenn Butler, the CEO of Life Support Technology at the Hyperbaric Chamber located at Nassau University Medical Center in East Meadow. He explained that his company was looking for EMTs and paramedics who were also skilled divers to work inside the chamber during treatments. The company would supply me with the required training and if I wanted I could later take the course and become a CHT (Certified Hyperbaric Technologist).
I started my training in early January 2005, and by the middle of the month I was ready to treat patients on my own. I enjoyed working for Glen (or as he wants us to say "working with him"). In March 2006 I took the formal course to become a CHT and passed my exam in October 2006. As of July 2007, I am employed full time with Life Support at their newest location, Winthrop University Medical Center.
A few years later, the site manager at NUMC, Mark Chipps decided on going to PA school. Glenn asked me if I would move back to NUMC. So I cut my travel time back to a quarter of what it was, and things stay the same until the end of 2010. I decided that I wanted to take a break and take care of things that I overlooked. So I left LST; it was a sad day, but I still stay in touch.
Back to Work
After about a year of retirement, I got tired of being home. So I spoke with Mark, and he said that I would be welcomed back on a part-time basis (that was the only condition I wanted).
So I took my 13th refresher course and updated my CHT again. There are times I think I can't make up my mind what I want.