How I Became an Open Water Diver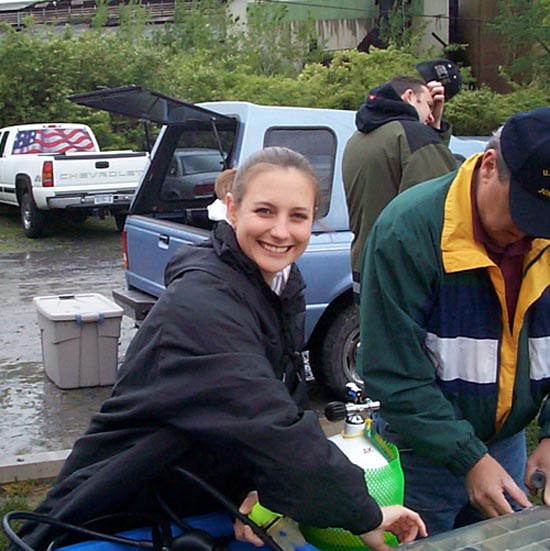 Allie at Dutch Springs
To give you a brief history of how I became a diver I need to go back to September 11, 2001. At that time I was a Captain with the New York City Fire Department/Emergency Medical Service Command. I was off duty on that day, but as many, I was recalled after the attack on the Twin Towers.
After months of duty both at my own Command (EMS Battalion #31 located in lower Brooklyn) and at the WTC Ground Zero site, I was one of the lucky ones to have won an all-expense paid vacation for my wife and I to Club Med on Paradise Island, Nassau. While there, a group of us took a FREE Intro to SCUBA course with Stuart Cove. Playing around the pool was a blast. The next day, four of us got picked up at 7:00am and off we went to the other side of the island. There we were fitted for wetsuits, masks, fins and loaded onto one of the boats, and off we went.
We did two dives that morning. The first was to the wreck of the David Tucker and then to the Will Laurie. It was great! We had some photos taken underwater and on the boat. The bug had bitten me. We finished out the week with friends and had a great time. But I knew that I enjoyed that time underwater and that I wanted more.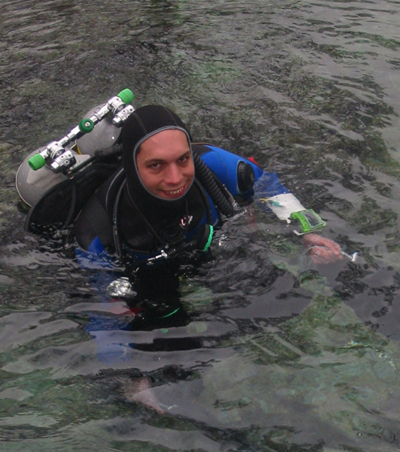 Jim at Ginnie Springs
In March I started my pool classes with another great person, Jim. He started as most of the instructors do, taking Ed's class at one of the local colleges that he gave a credited class in SCUBA Diving. In Jim's case, it was at Hofstra University. He went on to becoming a Dive Master, Open Water Instructor, Advanced Open and is now training to be a DiveCon Insturtor. Jim's number one goal is simple:
Plan your dive
Dive your plan
Stay safe
Jim took the time to ensure that I was safe and always left time to "play around in the pool."
In mid May and after Ed's lectures, Jim's pool work and my written final exam, it came time for the Open Water Weekend. Off I went to Dutch Springs in the Lehigh Valley with a truck full of rented gear and thoughts of what would happened if I ended killing myself in the quarry.
The first day, the weather was cold, rainy and not that great. Allie was leading the dives. For some reason she kept asking me if I was OK. That night it was her birthday, and she greeted with two birthday cakes complete with all of us singing Happy Birthday.
The next the weather was still lousy. After the first briefing, and while getting into my 7mm Farmer John wetsuit, that little voice inside my head told me not to dive. Now, in the past there were times when I didn't listen to that voice and trouble was never far behind. I told Allie, that I was a bit under the weather and didn't feel great about diving. She told that it wasn't a problem and that anyone could call a dive for any reason, no questions asked.
A few days later I found out the reason, by accident I had taken the wrong size wetsuit. Allie kept asking me how I was because my face was turning blue to the tightest of the wetsuit. I finished my Open Water Dives three weeks later with Ed, and signed up for advanced classes and club dives the next day. My diving days were here.